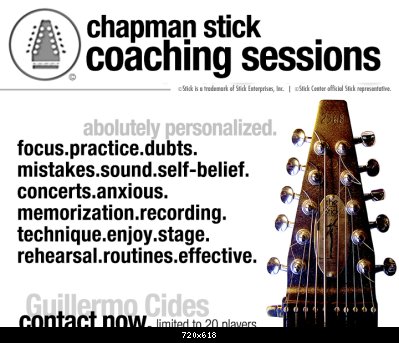 Chapman Stick Coaching Sessions
(version castellano debajo)
[*] Develop strong practice and performance confidence.
[*] Focus on what's most important in practice and performance.
[*] Beginners Or Pro, we all deal with our own limits.
[*] Deal with distractions and doubts.
[*] Identify your own mistakes during performing.
[*] Improve your performances and the communication of your song to your audience.
[*] Manage "hostile" possible situations in different places.
[*] Organize appropriate and effective concerts.
[*] Use effective pre-performance routines to build confidence.
[*] Incorporate mental rehearsal, imagery, and positive routines into preparation
[*] Devise effective and efficient practice plans.
[*] Optimize your performance as well in concerts, auditions Or other situations as you do in practice.
[*] Enjoy your time performing well in front of others.
[*] Work with anxiety Or fear when performing.
[*] Work with improvisation and enjoy IT on stage.
[*] Enjoy making mistakes and work with them.
[*] Work with your own songs and get the greatest possible emotional experience from them.
[*] Improve your sound.
[*] Optimize your soundcheck time for a good performance.
[*] Memorization system: hard and easy parts of a song.
[*] Optimize the musical energy during a concert.
[*] Improve the use of effects.
[*] Prepare your songs for a possible album recording (advanced coaching).
My coaching can include lesson techniques but IT attempts to go far beyond what you get from usual lessons. My aim is to defeat the barriers you are having that are stopping you from improving in the way you want. IT is personal work and every musician is different from another. My work is to understand you and help to improve your own musical potential. My background knowledge is my own experience of more than 20 years playing Stick concerts in many different situations including in bands, solo concerts, tours and recordings.
Private Skype sessions.
Contact and questions:
Share this to other people:
http://bit.ly/2kHmFQJ
Website:
http://www.guillermocides.com
===================================

Chapman Stick Coaching Sessions
[*] Conseguir buenos ensayos y confianza durante un concierto.
[*] Concentración en qué es lo importante en ensayo y concierto.
[*] Principiantes o Pro, todos tenemos que lidiar con nuestros limites.
[*] Trabajar con distracciones y dudas.
[*] Identificar los propios errores durante la ejecución.
[*] Mejorar la ejecución y la comunicación de las canciones con la audiencia.
[*] Manejar posible situaciones "hostiles" en diferentes lugares.
[*] Organizar conciertos efectivos.
[*] Usar rutinas de trabajo efectivas para crear confianza.
[*] Incorporar ensayos mentales, imaginería y rutinas positivas.
[*] Desarrollar planificación de ensayos eficientes.
[*] Optimizar la ejecución al mismo nivel que en el ensayo.
[*] Disfrutar de la libertad y tiempo tocando en frente de otros.
[*] Trabajar con la ansiedad y miedos durante los conciertos.
[*] Trabajar con improvisaciones en el escenario.
[*] Trabajar con el error y como utilizarlo para nuestro beneficio.
[*] Trabajar con las canciones y obtener la mejor experiencia emocional con ellas.
[*] Mejora y optimizar el sonido en concierto.
[*] Optimizar las pruebas de sonido para una buena performance.
[*] Sistemas de Memorización para puntos difíciles de una ejecución.
[*] Optimizar la energía musical durante un concierto.
[*] Mejorar el uso de efectos.
[*] Preparar las canciones para un posible album (coaching avanzado).
Mi coaching puede incluir clases sobre la técnica pero intento ir mas allá de las clases habituales. Mi intento es vencer las barreras que tiene el músico y que lo están frenando para mejorar lo que desea. Este es un trabajo muy personal y cada músico es diferente. Mi trabajo es entender al músico y ayudarlo a mejorar su potencial musical. Este trabajo está basado en mi propia experiencia musical y de enseñanza con mas de 20 años ofreciendo conciertos de Stick en diferentes situaciones - incluyendo bandas, conciertos solistas, giras y grabaciones.
Sesiones de Skype privadas.
Contacto y preguntas:
Comparte esto con otras personas:
http://bit.ly/2kHmFQJ
Website:
http://www.guillermocides.com